---
Hog Killing Time
Come join us at the Old South Farm Museum & Ag Learning Center in Woodland, Georgia for an Old Fashioned Hog Killing School on Saturday, February 7, 2015. The program will begin around 8:30 a.m.
8:30 a.m. Hog Killing, Scalding & Scraping Class
9:30 a.m. Cutting of Meats Class
9:45 a.m. Demonstrations

Chitterlings Cleaning - Casings Scraping
Sausage Making
Lard Making
Cooking Skins

10:0 a.m. Demonstrations

Processing Heads
Making Brunswick Stew
Meat Curing
Lye Soap
Cracklins
Smoking Meats (Smoke House Operation)

12:00 noon - 1:00 p.m. Lunch
1:00 p.m. Continue workshops
We have specialist teaching classes at various stations to explain meat processing. Each specialist will repeat demonstrations several times during workshop.
Two Groups of Participation
Class Participant - (Observer) Attends classes and receives FREE sausage.
Workshop Participant (Hands On Experience) Attends classes and receive several bulletins on Sausage Making /Meat Curing AND 10-15 pounds of FREE Pork Products. No Meat Will Be SOLD except sausage.
Shady Grove Baptist Church will serve breakfast and lunch at the Museum for a reasonable cost.
Pre-Registrants will pick up their paid receipt and get their name tag at the front door of the Museum when they arrive. No receipts will be sent back. Please Call To Confirm If You Wish.
Your registration includes touring the Museum. Use the link below to mail with your payment to the Farm Museum. Credit Cards can not be accepted.
Pre-Register by January 31, 2014
PRE-REGISTRATION REQUIRED
See pictures of our last Hog Killin'
---
Farm Camp is back!
Old South Farm is proud to host the annual Farm Camp beginning TIMES AND DATES TO BE DETERMINED.
Each Session Will Consist of 6 or More Classes:
Milking a cow
Gathering eggs
Washing clothes
Making butter & buttermilk
Grinding corn / wheat
Tractor driving
Canning
Cooking
Making sausage
Sewing
Honeybees & more
For meals, housing, transportation and classes, a fee of $200 per camp / person will be charged. Each session will have 10-20 campers. Any child under age 12 will need an adult with them.
You need to sign up early to get your 3-Day Farm Camp locked-in.
Arrive between 6:00pm & 7:00pm and end by 11:00am on the third day.
Take you family to our Farm Camp, tour the Old South Farm Museum with history lesson. Experience how our early farmers / grandparents and great grandparents lived. This is a far better vacation than driving to some beach hundreds of miles away.
FOR MORE INFORMATION: Call Paul Bulloch @ 706-975-9136 and come to Old South Farm Camp for the memory of a lifetime. Registration required
---
Introducing
The Georgia Peach Story
This new book from author Paul Milner Bulloch provides a comprehensive history of Georgia Peaches. Bulloch, former County Agriculture Agent of Talbot County, Georgia researched over five years gathering information, photographs and interviewing growers and sellers of those involved with Georgia's peach industry. The book can be purchased by calling 706-975-9136. The cost is $15 per copy with $3 shipping & handling.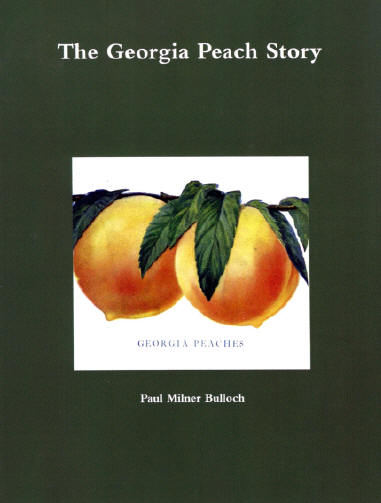 ---